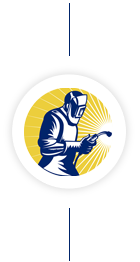 Contact Dennis Inspection
to Schedule a Consultation
Stop by today for a consultation, and see what our commitment to quality is all about! We know what we're doing, and we're dedicated to keeping you and your company happy.
From commercial structural steel inspections to welding/repairing farm machinery or custom fabrication work, we're happy to help you in whatever venture you have!
Your satisfaction is our highest priority!
Send Us a Message
"*" indicates required fields